Kashaya means medicated decoction and Vasti refers to administration of medicines through rectum.
Kashaya Vasti is indicated in following health conditions
Pain Management
Gastric Problems
De-toxification
Paralysis
What to expect
Kashaya Vasti treatment involves enema using medicated decoction.
How it works
It helps in removal of gas that causes pain and also in removing toxins for purpose of body de-toxification.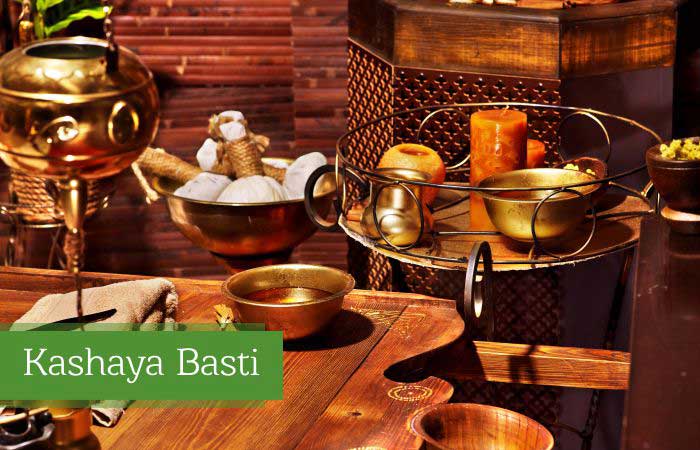 Benefits of Kashaya Vasti
Kashaya Vasti is used to treat constipation, neurological ailments, paralysis, flatulence, lower backache, gout and rheumatism.
Not recommended (contraindicated) in case of
People who have enorectal canal diseases or those above 70 years of age are not recommended to undergo this therapy.
Kashaya Vasti is used in management of following conditions at NuAyurveda Clinic
Pain Management
It is used in treatment of pain conditions such as lower backache, gout and rheumatism.
De-toxification
Decoction based enema helps in colonic de-toxification.
Gastric Problems
Gastric problems such as constipation and flatulence cab be treated effectively using kashaya Vasti
Paralysis
Kashaya Vasti is indicated for management of neurological ailments such as paralysis.
NuAyurveda Clinics in Mumbai
Aangan Row House #4, Opp.Thakur College, Thakur Village, Kandivali(E), Mumbai – 400101 (Tuesday closed)
Ground Floor, Vishwadeep Heights K. T. Soni Marg, Mahavir Nagar Kandivali (West), Mumbai – 400067 (Tuesday closed)
1st floor, Kohli Villa-130, SV Road, Near Shoppers Stop, opp. to Raymond (Andheri West), Mumbai 400058 (Tuesday closed)
C-102, Jolly Apartments Plot No 40/1-22, New Borla Village, Opp Maitri Park, N.B. Patil Marg, Chembur, Mumbai 400071. (Tuesday closed)
NuAyurveda Clinics in India Tab Layout
September 6, 2022
Kashaya Basti
September 27, 2021