Can you imagine your life without vision? We use our eyes practically each moment while we are awake, and so we need to give attention to eye health. Increased use of digital devices, pollution, chemical vapours, frequent use of cosmetics, etc. can cause irritation and redness in eyes. People who stare at computer screen for hours without taking a break can develop digital eye syndrome, which may lead to watering of eyes and even poor eye sight.

Book appointment
Free Consultation with Ayurvedic Doctor - Find out your Prakriti and get a Nadi Pariksha done complimentary.
You should therefore take some precautions such as wearing sunglasses when out in sun, wearing protecting glasses while using computer or even washing eyes with cold water often.
Some special Ayurvedic therapies can also help you to Eye Care and treat your eye problems.


Ayurvedic Eye Care Treatment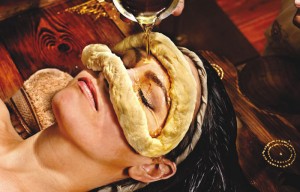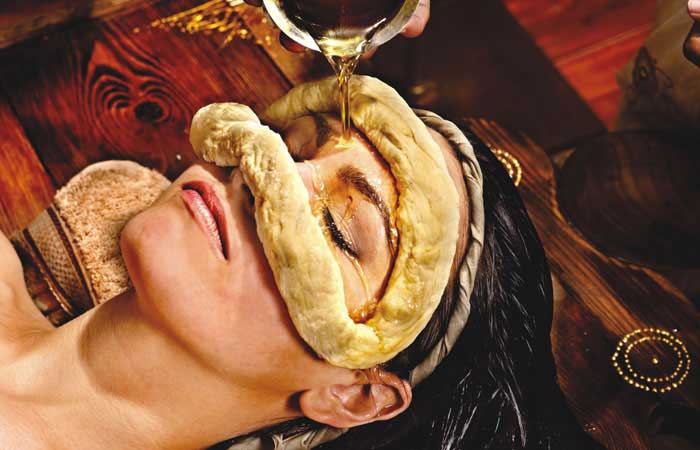 Netra Tarpanam
It is useful in treatment of computer vision syndrome and dry eyes. It also helpful in reducing the itching or irritation caused to eyes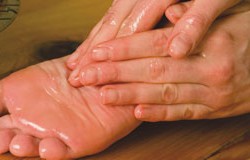 Padabhyanga
Ayurvedic foot massage stimulates some vital points on feet that are thought to allow the eyes to perform better. It can also help to manage tiredness and strain caused to eyes due to stress.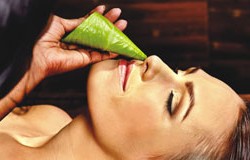 Nasyam
Medications administered through nasal cavity act on the specific area of brain that are involved in regulating vision.
List of our NuAyurvedic Clinics
Eye Care Treatment In Mumbai
50, Prerana Bungalow, Janakidevi School Road, Mhada, Sardar Patel Nagar, Andheri (W), Mumbai 400 053 ( Tuesday closed )
Andheri (West – Near Shoppers Stop)
1st floor, Kohli Villa-130, SV Road, Near Shoppers Stop, opp. to Raymond (Andheri West), Mumbai 400058 ( Tuesday closed )
Aangan Row House #4, Opp.Thakur College, Thakur Village, Kandivali(E), Mumbai – 400101 ( Tuesday closed )
Ground Floor, Vishwadeep Heights K. T. Soni Marg, Mahavir Nagar Kandivali (West), Mumbai – 400067 ( Tuesday closed )
D-101 Jolly Apartments, Above Syndicate Bank, Opp. Ratna Super Market, Ghatla Road, Maitri Park, Chembur, Mumbai – 400071 ( Tuesday closed )
:8450916688 / 02225206688
Eye CareNuayurvedaOctober 12, 2017
Eye Care Treatment In Pune
1st Floor – Varsha Court, Near HDFC Bank, Anand Park Aundh, Pune – 411007 ( Tuesday closed )
1st Floor – Pradyumna, Lane next to Bank of Baroda Off Bhandarkar Road, Pune – 411004 ( Tuesday closed )
1st Floor, Power Point Opp. 'Murphies', Above Menchie's, Pingale Chowk, Lane 6, Koregaon Park, Pune 411001 ( Tuesday closed )
(Launching Soon)
2nd Floor – Chambers, Above Tanishq, Next to Keys Hotel,Near PCMC Office, Old Mumbai Pune Highway, Pimpri – 411018 ( Tuesday closed )
Eye CareNuayurvedaOctober 12, 2017
Eye Care Treatment In Delhi
South Delhi Extension 2
South Extension-2, Lower Ground Floor – M-3, Behind Kotak Mahindra Bank, Next to Ritu Kumar, South Ex II, New Delhi – 110049 ( Tuesday closed )
B-18, 1st Floor, Next to ICICI Bank, Shivalik Main Road, Malviya Nagar, New Delhi.  ( Tuesday closed )
:01140042937
Eye CareNuayurvedaOctober 12, 2017
Eye Care Treatment In Gurgaon
1st Floor, Unit No C-12C, Super Mart 1, DLF City Phase-IV, Gurgaon (HARYANA) ( Tuesday closed )
:01244236288
Eye CareNuayurvedaOctober 12, 2017
List of our NuAyurvedic Clinics
Eye Care
October 12, 2017