The immune system is body's defensive mechanism that fights against infections. Immune system is made up of special cells, and organs that are present throughout the body. Lymphocytes also known as the White Blood Cells (WBC) are the key players in the immune system. The immune system restricts entry of infection-causing organisms such as bacteria, viruses, parasites, and fungi and thus prevents illnesses. However, when the Immunity is compromised   the body loses capability of protecting you from infections. Immunity can be affected due to several reasons such as unhealthy lifestyle, stress, genetic disorders and ageing.
Ayurveda, which is the oldest surviving medicinal system, has suggested few therapies to increase the body's natural Immunity to disease.


The immune system of the body is responsible to provide resistance against anything that is harmful to the system, such as diseases, infections, etc. Our immune system is comprised of special cells and organs. These organs are thymus, bone marrow, and lymph nodes. It is always severely important to keep your immune system strong for a healthy life. Thus, opting for Ayurvedic Immunity booster can prove to be extremely beneficial as it strengthens the system and keeps your body healthy.  
Ayurvedic treatment for immunity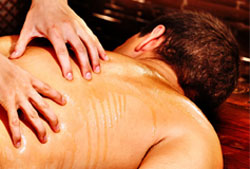 Abhyanga
Regular Abhyanga improves the circulatory and lymphatic system of the body thereby enhancing the Immunity. It is also known to stimulate the production of lymphocytes that play the vital role in maintaining strong Immunity.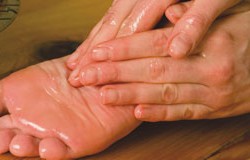 Padabhyanga
Padabhyanga stimulates some vital points on feet and stimulates internal organs. This helps in expelling the toxins out from the body. This special Ayurvedic herbal foot massage stimulates the production of white blood cells that play a very vital role in Immunity.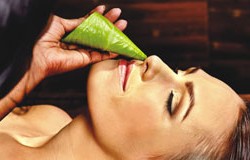 Nasyam
Use of immunity-boosting herbs for Nasyam can be beneficial in people who show low Immunity.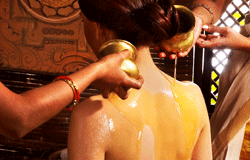 Pizhichil
Ayurvedic herbal massage with warm oil stimulates the production of white blood cells to improve Immunity.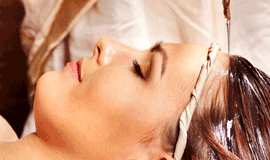 Takradhara (includes Abhyangam)
As an Ayurvedic treatment for improving immunity, Takradhara is performed along with Abhyangam. The massage used during this process stimulates the internal organs and improves blood circulation. The Ayurvedic body massage also stimulates the production of white blood cells, which play a vital role in maintaining Immunity.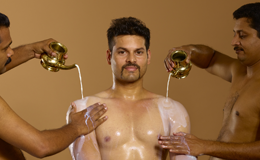 Ksheerdhara (includes Shiroabhyanga)
It relaxes the central nervous system and this creates mental calmness to reduce stress.  Since stress is associated with low Immunity. This stress management therapy is important.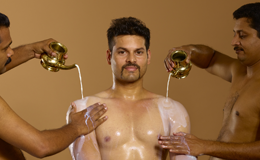 Kashayadhara (includes Shiroabhyangam)
Kashayadhara Ayurvedic therapy uses herbal oils, medicated milk, medicated butter milk that has anti-septic or anti-allergic actions.
NuAyurveda Clinics in Mumbai
Aangan Row House #4, Opp.Thakur College, Thakur Village, Kandivali(E), Mumbai – 400101 (Tuesday closed)
Ground Floor, Vishwadeep Heights K. T. Soni Marg, Mahavir Nagar Kandivali (West), Mumbai – 400067 (Tuesday closed)
1st floor, Kohli Villa-130, SV Road, Near Shoppers Stop, opp. to Raymond (Andheri West), Mumbai 400058 (Tuesday closed)
C-102, Jolly Apartments Plot No 40/1-22, New Borla Village, Opp Maitri Park, N.B. Patil Marg, Chembur, Mumbai 400071. (Tuesday closed)
NuAyurveda Clinics in India Tab Layout
September 6, 2022
Immunity
September 27, 2021